A friend who is an art therapist gave me a small tag the other day which reads, "It is at 60 that you realise the moments are everything."
60 is a funny age, it is where you can be described as an elderly person if you are in the paper. "An elderly woman (60) was run down by a rogue elephant this morning…", that kind of thing.
It's also the age where if you can't please everyone you get to please yourself. My house is nearly finished and I'm going to put this slightly mad mural as a headboard above my bed. And I don't have to compromise or ask anyone else.
It has been around in my photo album for a couple of years now and I just decided, to hell with it, if I want a bunch of unearthly cherubs above my head when I sleep at night I will. And if I get sick of it I'll tear it down again.
My friend explained to me that Erikson calls the over 60 age the last phase of human development and labels it generativity.
We can choose  either:
Integrity or Despair
to connect with others  or to isolate from others
to be honest and authentic  or to have blocks of depression
to be complete and feel whole or to have no hope
to have the ability to empathise, be in tune and to resonate with others or become solitary
Over the years I've longed for the country idyll because of the wild freedom as a child at our crib on the Otago Peninsula. We got up when we were awake, ate when we were hungry and went to bed when we were tired. We ate mushrooms, blackberry pie, blue cod, cockles in vinegar,crayfish legs (I only liked the legs).. We carved heavy seaweed balls and threw them hard at the weak. We cooked chips on the beach in baking soda tins filled with fat on any old tin tray we could fashion from what was around us. After a smoke-filled fire lighting session and some half cold, semi-baked chips covered in sand we would declare them delicious. No-one supervised us and the survival of the fitness ruled. Our days were measured by the state of the tide.There was no bathroom, just an old enamel bowl for a spit wash every few days. We used the longdrop and wiped our bums with old sewing pattern tissue.
I see today enamel has become trendy and I'm in there buying it with the best of Ponsonby.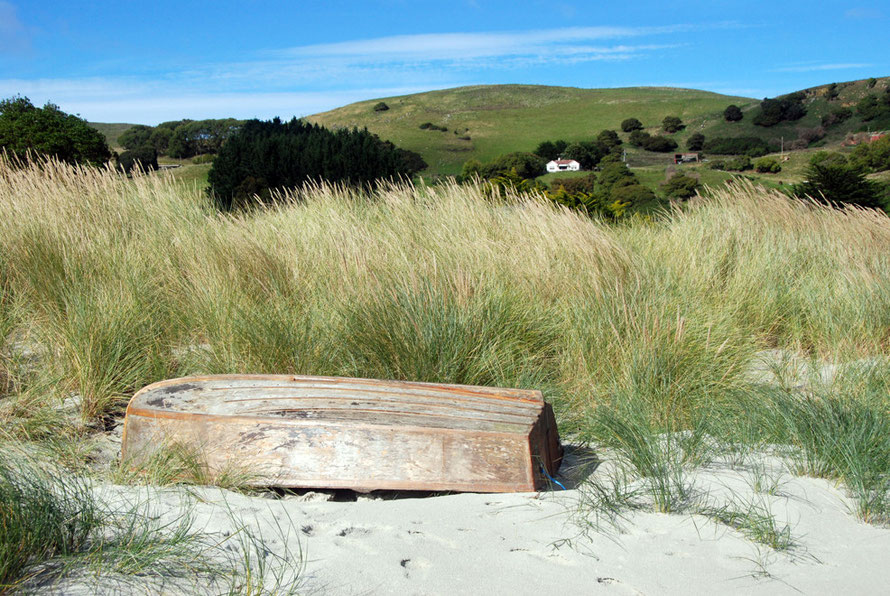 I've always become homesick, carted back home in a quilt as soon as I'm in another house, another bed, and to this day I love my own bed, my stuff and really don't enjoy being away for too long. The picture above makes me homesick all over again. How tempting it is to build a triple-glazed black box at Otakou and just sit and watch the tide come in and out, walk the beach, string shells and pick up driftwood, light a fire and stare into it, ask the fisherman at the wharf for a share of the catch and note how huge the boats are as they go up the channel into Dunedin harbour.  And how much surplus cash I'd have if I left Auckland!
So most of the time I want the things on the left column but some of the time I want isolation, solitariness, and yet still be authentic and honest. Having to work for financial reasons has pulled me back into the world. I have slipped into some bad habits of spending on a lot of stuff for the house. I don't know how it will be when I move next week. Apparently the house will be ready, but this is a photo from today.
While I threw out a lot of clothes and books and miscellaneous things when I packed up the old house I didn't cut down on paintings. All my houses always look the same because of this but I think I should try to declutter even those. After all, we baby boomers think we will live forever and don't think what mountains of stuff we are burdening our children with. Sam is an only child, how would he make sense out of the flotsam of my old world?
It is hard for me to reject the trappings, not get caught up in stuff, the need to socialise, but it's always there,  the desire to run away home.
House for sale in Hobsonville? ? The one below would do me fine and all for the princely sum of $79,500
http://www.trademe.co.nz/property/residential-property-for-sale/auction-854949419.htm
Location:
6 Tamatea Road
Otakou
Dunedin
Otago
Rooms:
2 bedrooms, 1 bathroom
Property type:
House
Price:
Asking price $79,500
Enjoy the delights of Otago Peninsula from this compact modernish crib of 1 & 1/2 bedrooms.
Great sun and views.
Lease to Te One Wiwi $920 per year.
DCC & ORC Rates under $500
Agency reference #: 10713963
I'll see you around, probably with stylish linen sheets, enamel colanders and good china  but behind my back could be that hard, wet, smelly seaweed ball ready to chuck when the moment's right. FG